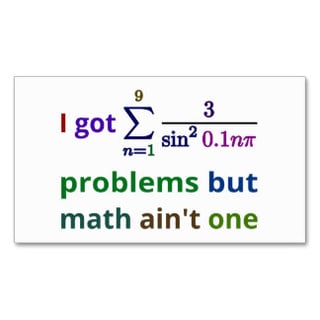 Problems have a bad rap. Facing a sudden problem disturbs our life routine, takes time and effort from things we like or have to do every day, and forces us to focus on the unpleasantness of solving something difficult in order to remove it and move on.
But in mathematics, problems are opportunities. They are an important element of a students' learning routine. Most students experience a conflict when, after years of conditioning telling them that problems are bad, they are thrust into a classroom environment filled with problems. It turns their school math experience into one big and long-lasting problem.
After the family environment, math can be the next great teacher in how to approach problems, even seemingly unrelated life problems. We envy and admire those who face their problems with calm and common sense, who solve them quickly and effectively. Such problem-solving wizards often approach problems analytically. They understand what's required of them, collect the information they need, consider their limitations, identify a few courses of action, and choose one.
Mathematics is the ideal environment to develop this healthy and productive approach to problem-solving. This is where problems can become a challenge that is faced with enthusiasm and handled with confidence.
Building problem-solving skills, habits, and behaviors through math exercises is the major benefit of a strong math curriculum for any child, not just those few who already enjoy doing math.